Slatted timber acoustic ceilings and walls
Our slatted timber acoustic systems can complement a wide range of room types. They are used for acoustics, aesthetics, or both.
Available in acoustic and non-acoustic variants, with up to Class A absorption, these panellised systems are made to measure for the project with our design support.
Lighting and services are carefully integrated, with demountable systems providing access. All finishing details and trims are also supplied by us, to the same factory finish.
Resources
Timber acoustic
solutions overview

---
Contact us
+44(0)161 541 2421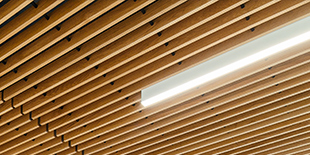 Vertical slatted - dowels
- Type VDU: grill, Unistrut suspension.
- Type VDT: grill, T-grid (acoustic) suspension.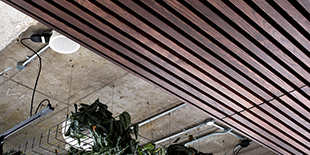 Horizontal slatted - Acoustic
- Type HFU: fabric wrapped frame on Unistrut
- Type HFM: fabric wrapped frame on MF grid
- Type HCU: Crossbattens on Unistrut
- Type HCM: Crossbattens on MF grid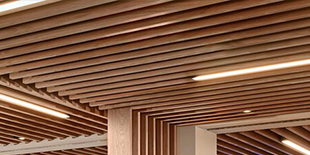 Vertical slatted - Acoustic
- Type VFU: fabric wrapped frame on Unistrut
- Type VFM: fabric wrapped frame on MF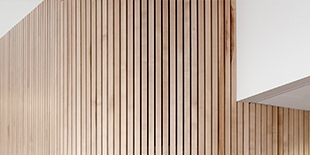 Slatted walls - Acoustic
- Type F: fabric wrapped frame
- Options: Curved panels, door covers, skirting

Finish Examples
Image #1
Image #2
Image #5
Image #1
System options
Environment
FSC or otherwise sustainably sourced materials available.


Fire performance
When specified Class O (Euro Class B) components and finishing are used.


Finishes
Solid timber provides the most authentic result but can limit some design possibilities.
Veneers enable further options and potential cost savings.

For full selection see Timber finishes.


Acoustics
Solutions up to Class A for ceilings and walls.


You specify slat sizes and timber type
We try to be as flexible as we can with customisation options.
Contact us before specifying to ensure an efficient and viable result.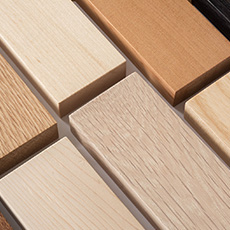 Project examples
Our slatted systems can be found in education facilities, offices, train stations, football clubs, hotels, civic centres, airports and heritage sites.
Notable references
- Oxford University - Hands Building
- Falmouth University - Launchpad
- University of Leicester - Bennett
- Tottenham Hotspur Football Club
- 25 Cabot Square, Canary Wharf
- Fidelis - Leadenhall Building
- Abbey Wood Train Station
- One Lyric Square, Hammersmith
- St Paul's Girl's School, Hammersmith
- Merton College, Oxford
- King's College London
- Heathrow Terminal 4
- Helicon Building, London
- Uxbridge High School - Orsino
- ExCeL London
- Harrogate Civic Centre
- Centrica, Windsor
- Aetna - Farnborough
- Bankside Hotel, Blackfriars
- Dyson Institute, Malmesbury
- Hounslow Civic centre
- Goodwood Aerodrome
- NIA - Academy
- South Lodge Hotel, Horsham
- The Langley, Buckinghamshire
- Allies and Morrison offices
- Sheppard Robson offices
- Gilead, Cambridge
- Leeds University
- Cambridge University
- Oundle Sports Centre
- Pernod Ricard, London